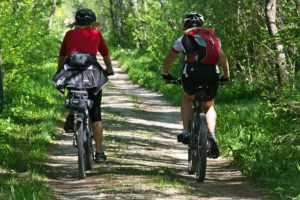 Tour the wonderful canyons, meadows, hilltop villages and peaks that reveal their past, by bike.
PEAKS OF ISTRIA – discover magical and mystical Ćićarija.
VIA TARTUFINA – guarantees a truffle experience.
GLAGOLITIC TRAIL – takes you back into history to discover Glagolitic heritage
TO ROČ BY BIKE reveals  a completely new town where most of the locals play at least one musical instrument
Raspadalica lies about 5 km north of Buzet. This equipped site is ideal for hang gliding and paragliding almost all year round.
PARAGLIDING
HANG GLIDING
Discover the thrill of hang gliding and learn hang gliding.
Nevio Ladavac, GSM: 00385 (0) 98 924 73 00, e-mail: nevio.ladavac@pu.t-com.hr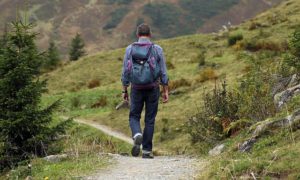 Hiking and mountaineering are becoming increasingly popular in Buzeština. Proof of this is the section of the Mountaineering Association "Planik" from Umag which was founded in Buzet with an increasing number of members.

Mountaineers and recreationists have at their disposal the  mountaineering trails:
"IPP" Istarski planinarski put
Buzet – Raspadalica 
Buzet – Kotli – Hum – Buzet
In the Valley of Horses you will have a wonderful riding experience whether you are a beginner or an experienced rider. The Valley of Horses is located in the vicinity of Roč, along the Glagolitic Avenue (the road from Roč to Hum).
horse riding along the Glagolitic Avenue
horse riding across Kotle
galloping in the Mirna valley
horse riding to Hum, the smallest town in the world
for children – horse riding on ponnies
horse-riding trips for one or several days
Dean Ribarić, +385 91 685 5577, dolinakonja@gmail.com
You can find next climbing sites on our region:
Buzetski kanjon (99 routes, grade 4a – 9a), good for whole year, you can also climb in some rain

GPS: 45°23`37.0"N  13°59`20.6"E          & 45°23`44.0"N 13°59`47.3"E                   

Hum (5 routes, 6c – 7c ) you can also cimb here in summer or rain

GPS: 45°23`31.2"N 14°02`39.2"E

Raspadalica (35 routes, 3 – 7c+), good in winter time

GPS: 45°24`56.4" N13°59`27.6"E
CAVING
FISHING
TREKKING
HUNTING
CAVING
Mlini source is a cave system with a water channel 450 m long.
Duration: 4 hours.
Pit near Slum, has a vertical entrance and you can descend to a depth of 60 m.
During the first part of the day participants learn about the practical part of use of equipment, whereas the afternoon is reserved for entering the pit.
Duration: whole day
For a top caving adventure of Buzeština and Ćićarija contact:
Nevio Ladavac, GSM: 00385 (0) 98 924 73 00, nevio.ladavac@pu.t-com.hr
FISHING
TREKKING
HUNTING

Konoba Kotlić – Kotle 3, GSM: +385 99 351 70 77,  Friday-Sunday 12:30 – 19:30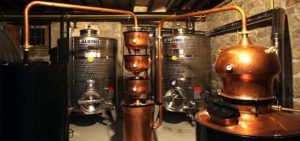 Biska is a homemade brandy which is prepared from grape brandy, white mistletoe and four types of herbs. The recipe is about 2000 years old. It is a remainder of Druid magic of ancient Celts who once inhabited these parts. White mistletoe (viscum album) was a cultic plant of ancient Celts. Biska is famous for its medicinal properties, it is one of the best natural cures for arteriosclerosis and for regulating high and low blood pressure. Only Humska konoba (Hum Tavern) knows the recipe for its production, which was given by the late Hum priest (Josip Vidou) who was a famous herbalist. You can taste biska at Humska konoba in Hum – the smallest town in the world. Besides being famous as the smallest town in the world, Hum also promotes itself as the Town of Biska.
Damir Sirotić, Sovinjsko polje, tel: 052/663-027 (produces also a brandy with honey)
Dario Sirotić, Medveje, tel: 052/667-194
Diego Nežić, Maruškići, tel: 052/662-293
(also produces: brandy with honey, erba luigia,…)
Ivan Jermaniš, Kijeka, tel: 052/667-141
(produces also other kinds of brandies)
Miro Petohleb, Čela, tel: 052/662-750 
(produces many kinds of brandies and aromatic wine…)
Edvin Petohleb, Čela, tel: 091/507 99 73
Vinarstvo Jakac, Veli Mlun, tel: 052/ 662 481
Destilerija "Aura", Buzet, tel: 052/694250
Truffles are a group of underground fungi with a very specific taste, which are considered the ultimate in gastronomy. They grow in the very heart of Istria, in the damp and grey soil of the forests near Buzet, close to the Mirna river. This hidden treasure is found with the help of specially trained dogs. The area that is rich in truffles is in the northwest to Buzet and Lanišæe to the Raša river in the area of Labin and south to Pazin. In the valley of the Mirna river the highly-prized and world-known white truffles are harvested in early autumn, as are black truffles found both in winter and summer.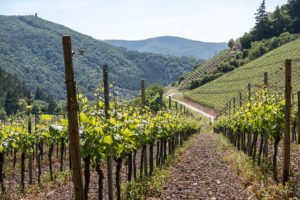 The interior of Istria, with its hills where the red soil becomes grey, white, clayish is famous for its red Teran and golden Malvasia.
Torkop – Černeka Dražen, Brnozi, 51, GSM +385 (0)91 575 9192 cerneka.torkop@gmail.com
Vlado Jerman, Pigini 27/2, GSM 098 443 498
Damir Sirotić, Sovinjsko Polje 7, GSM 091 663 53 34 damir.sirotic@pu.t-com.hr
Dorjan Jakac, Veli Mlun 12, GSM 091 508 09 95 vinagrojakac.jakac@ri.t-com.hr
Miro Petohleb, Čela 43, tel. GSM 098 224 975 leana_istra@hotmail.com
Adriano Černeka, Medveje 4, GSM 091 734 57 99 adrianocerneka@net.hr
Sanjin Sirotić, Sovinjsko polje 9, GSM 091 531 72 47 sanjin.sirotic@ivb.hr
Miljenko Prodan, Pašutići 3/2, GSM 098 701 392
Kristijan Krt, Puhi 54, GSM 091 666 41 70 krt1@vip.hr
Pillar of the Chakavian Parliament – a memorial-site in the shape of the glagolitic letter S which symbolizes the first Slavic script and the beginnings of the Slavic literacy.
Table of Cyril and Methodius – the name of this stone table monument is written on the rim written in Latin, Cyrillic and Glagolitic. Two cypresses are planted beside to the table symbolizing the Holy Brothers.
The Chair of Kliment of Ohrid – dedicated to Kliment of Ohrid, the most meritorious disciple of Cyrill and Methodius the founder of the first Slavic university.
Glagolitic Lapidarium – a collection of copies of the oldest and most significant Glagolitic inscriptions fom Istra, the Kvarner islands and Dalmatia are built in the surrounding wall in front of the church in the village Bernobići.
Gorge of the Croatian Lucidar – dedicated to the Croatian Lucidar, the medieval encyclopedia used by our Glagolites.
Belvedere of Grgur of Nin – the Latin, Glagolitic and Cyrillic alphabets are inscribed on the stone block.
Gradient of the Survey of Istrian Land Boundaries – The Survey of Istrian Land Boundaries is a collection of documents from the 13th and 14th centuries about land boundaries of Istrian feudal lords: Aquilean Patriarchate, Pazin county and Venice. The memorial-site consists of stone blocks cut in the shape of Galgolitic letters which put together give the original name: Istarski razvod.   
Wall of the Croatian Protestants and Heretics – in the centre of the stone wall, in the white stone block, the Galgolitic letter S is inscribed whereas in its upper part are names of famous Croatian protestants and heretics. Quotations from their works are inscribed in the seven stone slabs.
Resting-place of Juri the Deacon – dedicated to Juri the Deacon, an Istrian Galgolite who helped prepare the printing of the first Croatian printed book Missal from 1483. He enthusiastically announced it in Duke Novak's Missal (written in 1386) with words which are inscribed in the stone wall (in the shape of a book). The seven stone cubes resemble matrixes for hand typesetting while the letters on them spell: Žakn Juri (Juri the Deacon).
Monument to Resistance and Freedom – it consists of three stone blocks, one above the other. Each block symbolizes a particular historic period: the ancient world, the Middle Ages and the modern world. They symbolize the resistance of the people of Hum and its area against tyranny and banishment as well as their aspiration to peace and freedom throughout the ages.
Gate of Hum – made of copper hand-holds in the shape of ox's horns, the two door knockers bear welcome inscriptions. There is a peasant's calendar – twelve medallions with scenes of rural life – placed semi-circularly in the upper part of the gate.
(Text by Miroslav Sinčić)